The Best of 2023
Jump to navigation
Jump to search
This is a collection of pictures and videos of devices that placed in the top ten at the 2023 National Tournament at Wichita State University. Feel free to add more pictures and/or videos of devices. If possible, please include a description about your device. Because everyone benefits when we share, devices that did not place in the top ten are sometimes allowed.
The Best of Nationals pages highlight the best devices for building events from recent national tournaments. All photos and videos of devices on these pages are submitted by users.
3rd Place
Chip and Dale were Castro Valley's Detector Building device for the 2023 season. Chip is a ceramic teacup with googly eyes and sits on Dale, a scale with a custom-milled aluminum strain gauge load cell in a full bridge configuration. The load cell is amplified and read with a NAU7802 amplifier/ADC, and the entire thing is controlled with a Raspberry Pi Pico programmed in CircuitPython. Cell creep and offset error are automatically compensated for in software, with Chip helping to center masses in a consistent location. Chip and Dale received a build score of 56.9/57 at regionals and 75.8/76 at states.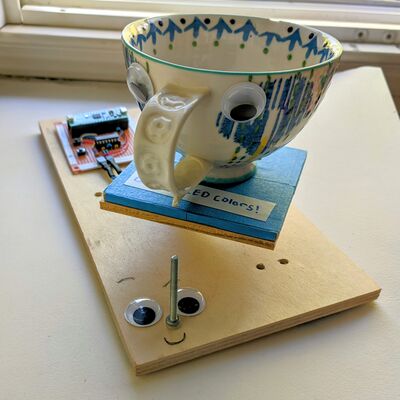 Flight (Division B)
7th Place
This device was built by Bananasaurus and Summersaurus who competed for Shady Side Academy Middle School for use throughout the 2023 Tournament Season. Both planes were stock planes from the kit with the A plane at Nationals being a stock FF and the B plane being a stock JH. The A plane had a UNSANDED Flaring propeller on it from Ikara at around 44 pitch. A lot of optimization could have occured, but Banana did not have much time to work on this event as Storm the Castle exists. Banana personally achieved a best time during the season of 4:06 in a 27' ceiling using a custom design, however after the plane breaking, he did not have time to construct and retrim another one. His plane at nationals consistently did 3:05 in the 34' ceiling, but ultimately was only 3 seconds short of a medal. This event was a lot of fun and Banana has enjoyed his time doing it.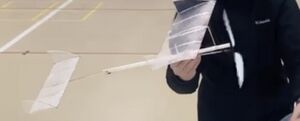 1st Place
Roody was Castro Valley's It's About Time device for the 2023 season. To keep time, Roody uses a custom 3D-printed escapement with a fairly short period. The rotation of the escape wheel allows a mass to fall, which rides on a linear bearing. Attached to the mass is a lever, which triggers a washer to contact the mass, making the signal. Pegs are attached to an 8020 extruded aluminum rail and can be adjusted up and down to contact the lever at different times. During practice, Roody has been able to achieve accuracies down to less than 0.2 seconds per interval on average and was on average less than 0.35 seconds off per interval at Nationals across both trials.
9th Place
This device was built by Bananasaurus and his partner Summersaurus who competed for Shady Side Academy Middle School for use at the State and National Tournaments. The frame was built using plywood pieces, while the 23cm loop was constructed using sawed in half flexible PVC pipe. The first gap is from the end of the loop to the edge of the copper C loop, while the second gap is from the top of the copper C loop to the farthest metal part edge. This gave us around 23cm of loop(most likely could've been optimized to around 40 but not enough time. Our timing system was taken from that of JC and AC using metal rails to replace time. The target time was 37 seconds at nationals and our timing system gave us a 34 second run. This made our overall competition score 402, putting us at 9th overall. This event was a pain.
2nd Place
This device was built by Bananasaurus and his partner HS who competed for Shady Side Academy Middle School for use throughout the 2023 Tournament Season. It was constructed using a base of 8020 aluminum found in the school's resource pile and the frame was assembled using various screws and bolts to hold everything together. The floor was made using a piece of pine wood bought at home depot and the launch tube was a sawed in half PVC pipe. The pouch was made using a whitish thin window screen type material which had little friction. The arm itself was made using a 1 meter long piece of Carbon Fiber rod(0.25" diameter), the middle bearing was CNC'ed and allowed for a tight fit with little wiggle room and the bearings used were industrial grade ball bearings. The end rod had two teflon washers to ensure consistent fall and used a cold rolled steel rod. The Pin Angle Assembly was constructed using a U Wingnut Clamp with a bicycle pin as the pin angle adjuster. The device performed quite well, shooting an average of 16-17m on the 2000g mass and almost 12.5m on the 1000g mass. We placed 2nd overall at nationals with a bucket shot of 19m with the 2600g heavy CW(reduced from predicted 20m for safety), and 3 cm away from the 6.5m bucket. This gave us an overall competition score of around 3150.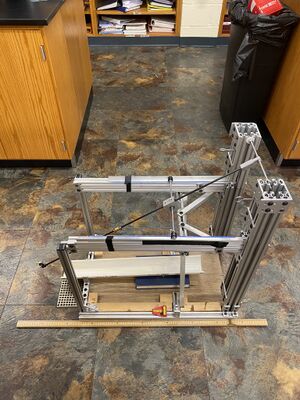 15th Place
This device was built by poonda (with help from venom, banana, shloke, and pumptato) who competed for Pembroke Hill Middle School for use in the 2023 National Tournament. Poonda averaged a score of 6.8 in practice runs, though a bump at nationals caused the vehicle to bounce off the floor and swerve 7-8ish cm to the left; ended up with a time of 2.3s and a distance of 9.6cm. cope harder i guess, common poonda L
4th Place
This device was built by Alan Chen and Nathan Donagi who competed for Lower Merion High School for use throughout the 2023 season. Our best score was at the State competition with a score of 6890, and at Nationals we were 8 cm off of the far target (8 meters away, 1 meter to the right) and 10 cm off of the near elevated target (2.7 meters away, 1.81 meters high). What irked Alan at Nationals was how the bucket was placed immediately behind the elevated target, and because of his launch angles, he was not able to obtain any bucket scores. However, he still placed 4th overall, so he's not complaining that much considering he went toe to toe with the country's best schools using a box of scraps.
The main structural components were made out of plywood, scrap wood planks, and wood screws. The lever is a 1:2 class 1 lever made out of aluminum box tubing and a racquetball container cut down to size. Wooden dowels were hot-glued and taped on as horizontal stabilizers, and a metal axle with 4 skateboard bearings was used as the fulcrum. Our elastic was a pallet rubber band cut down and doubled up to be fastened with pieces of VEX metal plates, and we replaced our elastic with thick surgical tubing for the National Tournament. Our release mechanism consisted of a long string connected to the lever arm which would be pulled down through a fixed pulley (made of a really long bolt and two bearings) and clamped to the support structure using a Quick-Grip clamp, and two really long sticks were used to hit the release lever on the clamp to launch the ball. A length of tailor's tape was taped onto the back of the structure to act as a consistent variable to calibrate with. To change the angle of launch, a small block made from wood and acrylic was inserted on top of the lever arm to stop the arm at an earlier angle. To top it all off, a water jug was filled with sand and placed in the center of our build to act as a counterweight.
3rd Place
Designed by Epithelium58 and Person-v132, Claude was Castro Valley High School's WiFi Lab antenna for the 2022-2023 season. A hybrid antenna, Claude is constructed of a double biquad driven element, 3 single biquad parasitic elements, and a sheet reflector. Designed to transmit a 2.4 GHz WiFi signal, the measurements and spacings of the elements are based on guides published by Martybugs.net and Andrew McNeil.
All the elements were bent by hand, from 16 gauge copper wire. The driven element was connected to both the positive and negative ends of the coaxial connector, the reflector was connected to the negative end, and the parasitic elements were isolated.
A 3D printed rail was designed by Venom, allowing elements to freely slide as their spacings were optimized. Originally secured with rubber bands, hot glue was later used to secure the elements. An adjustable foot made of the same wire is located in the back in order to properly aim the antenna. By manipulating the foot, one could tilt the signal up, down, left, and right.
In testing, this device consistently achieved distances of 30 to 40 meters. At nationals, the antenna performed with a signal strength of -59 dBm at 30 meters compared to the threshold of -67 dBm.